Brabus Has Placed A Huge Wing On A G-Wagon (PHOTOS)
This is the Brabus 900 Rocket, complete with 887bhp, a wider bodykit, 24-inch wheels, much carbon fibre and a massive rear spoiler.
Just 25 examples of the G-Wagen-based Rocket will be built. Each one costs €480,059 (around £411,000) before taxes.
To justify the price, the Bottrop-based tuner bores the G's standard 4.0-litre V8 engine out to 4.5-litres, before fitting forged internals and two higher performance turbos. The result is the aforementioned 887bhp and a torque figure that's electronically limited to 774lb ft.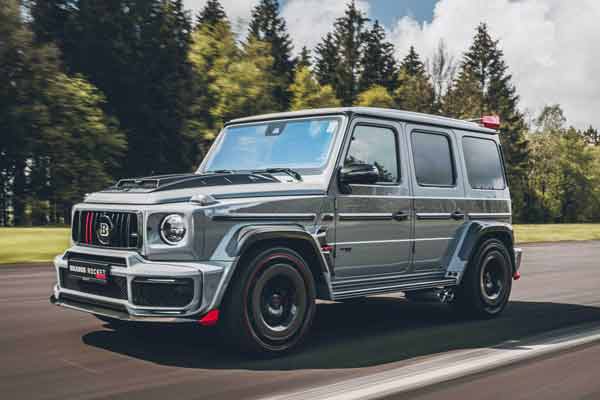 That frankly ludicrous amount of power means 0-62mph is dispatched in 3.7 seconds and top speed is limited to 174mph in order to protect the tyres. This is probably wise given that the Rocket weighs over 2.5 tonnes.
New intakes in the grille get more air into the engine and the new stainless steel exhaust can be valve-controlled for added noise.
There really is a lot of carbon fibre going on in that bodykit, isn't there? The new bonnet, front splitter, spoiler, grille, wing mirrors, rear diffuser and even the door handles are made out of the stuff. As are the chunky wheelarches that add an extra 10cm of width to the already-massive G-Class. The wheels are forged units with carbon fibre aero discs too.
There are plenty of red accents on the exterior (something that's becoming a bit of a Brabus staple) and even more on the inside of the "Signature Black" car above. That is a brave interior spec if we've ever seen one.
What else can we tell you? Well, new coilover suspension means you can lower the Brabus by up to 45mm and the rear bench seat has been swapped out for two diamond quilted individual chairs. The centre console in between those new rear seats houses cooling cupholders and a drinks fridge, whilst Brabus says the retractable tables are "just as perfect for working on a notebook or tablet as they are for reading a book, magazine or important files." Hopefully not whilst the full 887bhp is being deployed, though.