Check Out This Dodge Ram TRX 6×6 Called Warlord Done By Apocalypse Manufacturing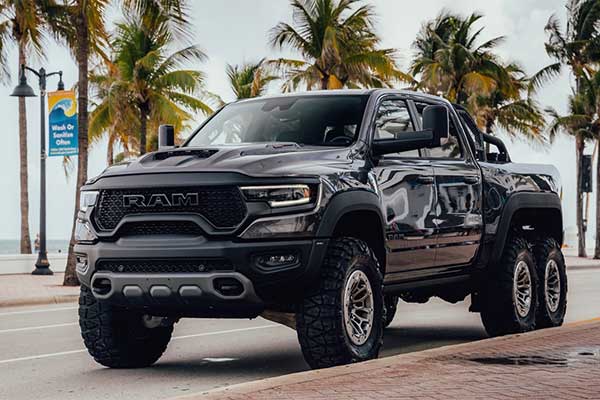 After launching 6×6 conversions for the Jeep Wrangler, Florida-based Apocalypse Manufacturing has revealed the Warlord, a 6×6 version of the 2021 Ram 1500 TRX. In all ramifications, this behemoth of a vehicle is a beast.
The Warlord uses Apocalypse's proprietary middle axle that adds two more powered wheels. The company also fits a custom frame using 0.25-inch thick steel at the rear. For a suitably aggressive look, 37-inch mud-terrain tires wrap around 18-inch wheels. A full-sized spare is located in the bed. A style bar is also just behind the cab.
On the inside, Apocalypse Warlord is no different from a stock TRX. It still has a 12-inch infotainment touchscreen, a console-mounted floor shifter, a 7-inch digital instrument display, and an SRT flat-bottom and leather-wrapped steering wheel. It also has a 900W Harman Kardon audio system with 19 speakers and a 10-inch subwoofer to render your driving tunes in fantastic clarity.
The Warlord remains stock under the hood. That means a 6.2-litre supercharged V-8 producing 702 hp and 650 lb-ft of torque, coupled to an 8-speed automatic transmission. Ram quotes 0-60 mph in 4.5 seconds for the stock TRX, but it's unclear how the additional axle affects that time. It's likely slower because it's certainly heavier.
"I am really proud of how our highly-skilled team took on our most ambitious project yet," Apocalypse Manufacturing owner Joseph Ghattas said in a statement. "This build is as impressive as they come and perfectly aligns with the rest of our Apocalypse catalogue of trucks."