Bulletproof Range Rover SUV, Official Vehicle Of Enugu State Governor, Ugwuanyi (PHOTOS)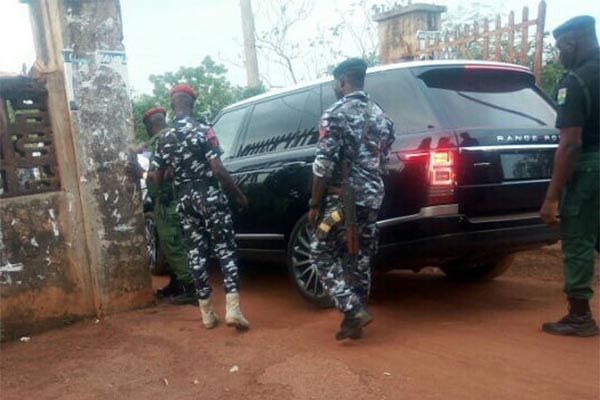 When you hear bulletproof cars, one thing that comes to mind is presidents, governors, politicians and some business executives. Obviously, there is arguably no governor in Nigeria without a bulletproof car in his gallery.
The Governor of Enugu State, Lawrence Ifeanyi Ugwuanyi (popularly known as "Gburugburu")  is, however, one among many of these governors with armoured official vehicles. Of no doubt a toy out of his luxury fleet.
The Enugu State Governor was spotted cruising in his bulletproof Range Rover Autobiography Long Wheel Base (LWB).
Credit to @austine_jay  who got these shots. See images below.
Earlier, we brought you pictures of the Governor's armoured BMW 760li
About The Bulletproof Range Rover LWB
Though other Range Rovers have been modified by third party firms, Land Rover also creates fully engineered armoured vehicles in-house by the company's Special Vehicle Operations division.
The armoured Range Rover looks almost identical to the regular SUV. However, underneath the enamel there's a steel-plated armored passenger cell and windows of optical-quality multi-laminated armor privacy glass.
The SUV is certified against ballistic threats by, which means it can withstand high-velocity and armor-piercing incendiary rounds amongst others. In addition, there's an anti-tamper exhaust, a self-sealing fuel tank, and an auxiliary back-up battery with a split charging system.