Ikeja Bus Terminal That Buhari Commissioned Was Not Completed, Work Is Still On-Going (See PHOTOS)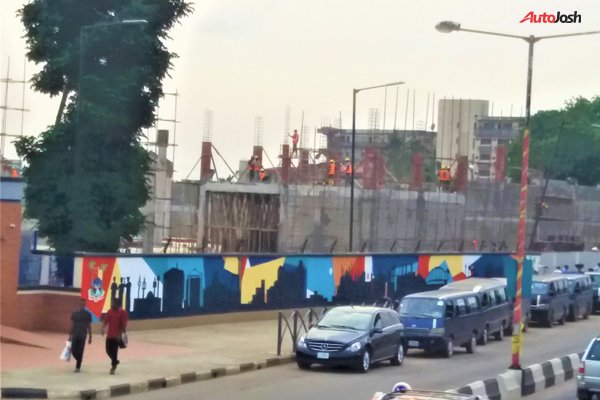 On Thursday, March 29, 2018. President Muhammadu Buhari, together with the Lagos State Governor, Mr. Akinwunmi Ambode, commissioned the newly built Ikeja Bus Terminal.
The impressive complex was built by the Lagos State Government.
The commissioning of the bus terminal was celebrated amid pomp and pageantry.
However, and contrary to popular understanding, the imposing Ikeja Bus Terminal, at the time of its commissioning, was yet to be fully completed.
Construction work, especially at the rear end of the complex, still needed to be carried out.
Construction work recently continued at the site.
The Ikeja Bus Terminal is one of our flagship transport infrastructure under the State Bus Reform Initiative.
The first phase of this programme will see 13 new Bus terminals introduced. They include major terminals at Oshodi, Yaba, Ojota, Agege and the already completed Tafawa Balewa Bus Terminal.
This will be followed by the introduction of 5,000 new buses into the Lagos economy in the next 3 years. 820 environmentally-friendly high capacity buses will be injected in the first phase of this reform by September 2018.
Also to be built in the Ambode-led government initiative are 300 New Bus Stops, 3 Bus Depots, and Intelligent Transport System which will aid Lagosians to plan their journeys on public transport system.