Dear Governor Ambode, See The Disgraceful States Of Roads In Surulere (See PHOTOS)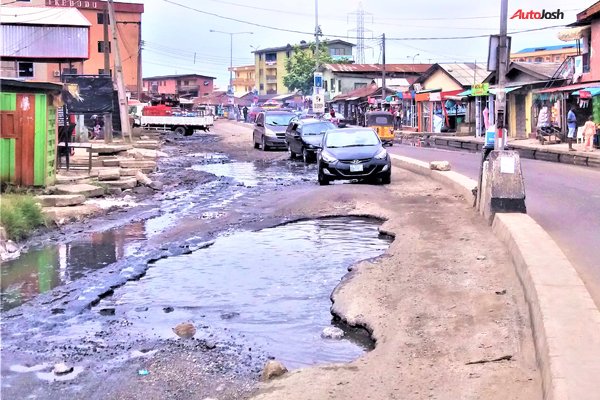 Arguably, no state or province in Africa can match Lagos state in terms of the enormous revenue that it generates.
Lagos state – the 7th largest economy in Africa – boasts of a monthly IGR of N36billion (N432 Billion annually). This is exclusive of the annual over N120billion it gets from the Federal pursue.
Indeed, with such a terrific fiscal muscle, far more is expected from the state's administrators.
With such resources, the least that is expected from the different tiers of governments in Lagos state is to ensure that the basic social infrastructure and amenities are in good condition.
For instance, potholes should be a scarce feature on roads in Lagos state.
Except we delude ourselves, in Lagos state, there are far more bad roads than good ones.
Lagosians are far too progressive a people to be deluded by mere window-dressing.
Indeed, the rehabilitation, reconstruction and construction of roads ought to be self-evident across every part of the state, Inner or outter roads, nowhere should enjoy better patronage than the other.
For instance, Surulere Local Government Area  (Surulere, Aguda-Coker, Itire-Ikate axis) is a prime residential and commercial location in the state.
Sadly, in Surulere, the embarrassing sights of bad road is a serious cause for concern.
Crater-sized potholes and gullies, decrepit road surfaces are common features on roads in Surulere.
Adetola street, Adesina road, Itire road, Ijesha roads, Omilani street, Ilamoye street, Oduduwa road, Kilo, Aguda, Karonwi, etc. These locations have mountains, ridges, hills and craters for roads.
Tragically, roads in Surulere is a macrocosm of how inner city roads in Lagos are.
In Surulere, when it rains, the craters deepen and widen and the potholes become lakes.
The Executive Chairman of Coker-Aguda LCDA Akinyemi-Obe Medinat Omobolanle Adetutu
The Executive Chairman of Itire-Ikate LCDA is  Apatira Hameed Olanrewaju.
The Executive Chairman of Surulere LGA is Ajide Yomi Tajudeen Yusuff
The Governor of Lagos state is Akinwunmi Ambode.
See Photos of some disgraceful sights of bad roads in Surulere below.