This Toyota Tacoma Pickup Truck Thinks Its A 1987 BMW 3-Series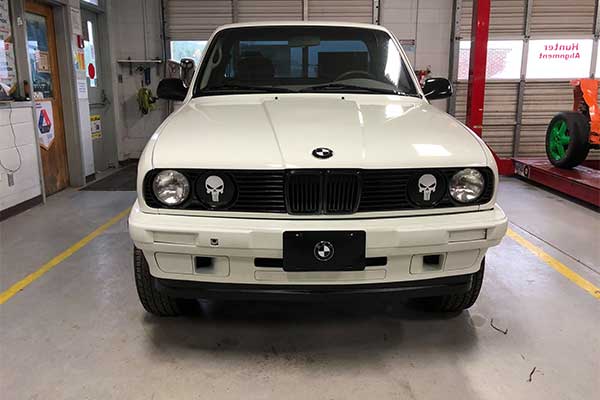 By mere looking at the photos you will definitely say it's a photoshop done by an expert but WRONG!!!, this is the real deal. Behold the BMW Pickup or should we say BMW Tacoma 3-series? Well, whichever you want to call it this is a work of art. The project was created by students from the County Career Tech Educational Center in Shelby County, Alabama.
The custom pickup started life as a 2001 Toyota Tacoma and the students fitted the 3-series front to the mix. Aside from the Bimmer treatment at the front, the wheel centre caps have received the blue and white treatment indicative of BMW's corporate badge denoting Bavaria's official colours. We can also see a set of The Punisher's skulls replacing the inner pair of headlights. The alignment of the driver's door isn't quite right but it can be easily forgiven. The result is what you can see in the photos but the entire process isn't too difficult. In addition, 2 of them were made and both will be on display at the 2021 Alabama Auto Show from April 15th to 18th.
On the engine and transmission, nobody knows but the 2001 Tacoma is powered by either a 2.4, a 2.7-litre (both 4 cylinders). A 3.4 V6 that outputs 190hp is also available and an even more powerful TRD variant produces 254 hp. They were paired with a 4-speed automatic and a 5-speed manual. Here are few pictures below.