Toyota Unmasks The 2024 Tacoma Pickup Truck And It Ticks All The Right Boxes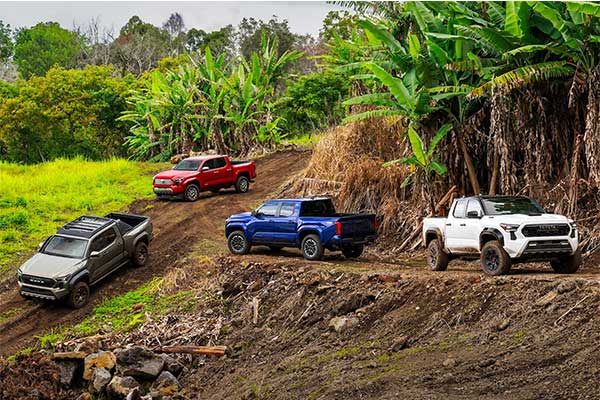 America's best-selling midsize pickup truck the Toyota Tacoma has been renewed for 2024 and this time around, it's not an upgrade or refresh, it's an all-new model built from the ground up. With the arrival of the Tacoma, rivals like the Nissan Frontier, Chevrolet Colorado, and GMC Canyon may have something to worry about.
Starting from the exterior, the new Tacoma opts for a tougher aesthetic than some of its competitors. Slim headlights adorn the front bumper with running-mascara faux vents that trickle down toward the lower grille. The TRD Sport uses a simple black grille with a central Toyota jellybean badge, while the luxurious Limited model uses the same Toyota badge but is now finished in chrome with chrome horizontal slats and matching chrome wheels.
The rugged TRD Pro and the Trailhunter models use the retro "TOYOTA" wordmark across the grille, and they both offer additional rugged visual cues like a front skid plate, horizontal LED running lights, and unique wheel and tire combos designed for off-roading. The TRD Pro has black 18-inch wheels wrapped in 33-inch Goodyear off-road tires while the Trailhunter pairs unique 18-inch bronze wheels with the same rubber.
As for suspension, the front of every Tacoma uses a double-wishbone, coil-spring design. But the rear varies. The base SR, SR5 and TRD PreRunner models still use a live axle with leaf springs. This is the only TNGA-F vehicle to use them. Higher trims get a new multi-link solid axle design with coil springs. And there are even suspension variations when it comes to shocks since there are unique versions for the TRD Sport, TRD Off Road, Limited, TRD Pro and Trailhunter.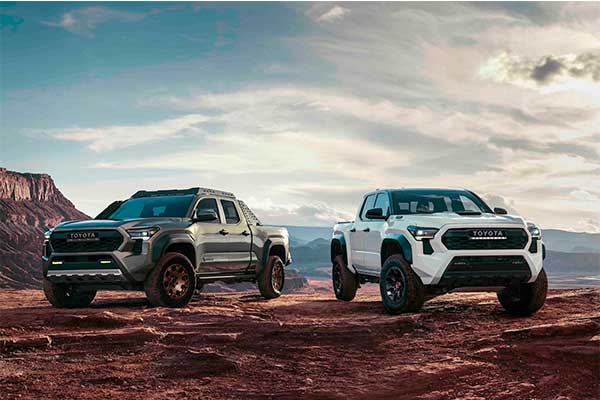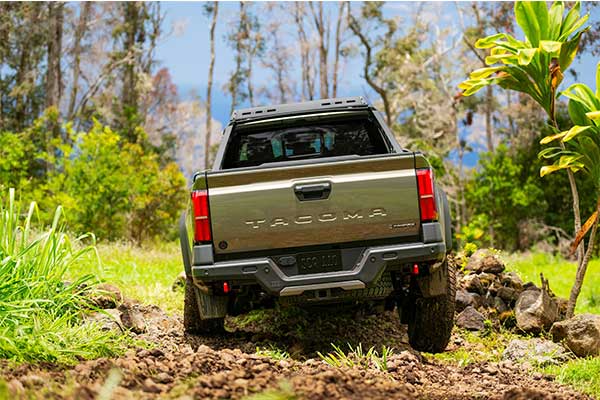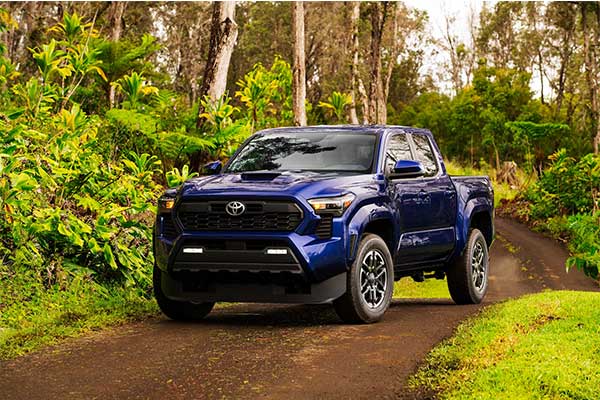 The interior is a giant leap forward. Depending on trim, you get an eight- or 14-inch touchscreen infotainment system running the same Audio Multimedia software that debuted on the 2022 pickup. It supports wireless Apple CarPlay and Android Auto and a wireless charging pad. There's a host of USB-C charging ports. Music fans will love the premium 10-speaker JBL audio upgrade, including the new removable Bluetooth speaker.
A seven-inch gauge cluster is standard on lower grades, while top-spec models get a 12.3-inch digital instrument cluster with four available styles. All models get a Smart Key System with a push-button start.
Base Tacomas are powered by a detuned 2.4-liter turbo-4 rated at 228 hp and 243 lb-ft of torque. Trucks with this engine don't get the oil cooler, an engine mount, and some sound deadener that more powerful Tacomas have.
Most Tacomas feature a 2.4-liter turbo-4 with more boost than the base engine for an output of 278 hp and 310 lb-ft. It's the same turbo-4 found in the Highlander crossover SUV, but it sits longitudinally instead of transversely and some internal components have been beefed up.
Available in TRD Sport, TRD, Off-Road, and Limited, and standard on TRD Pro and Trailhunter models, is a new 2.4-liter turbo-4 hybrid powertrain with a 48-hp electric motor integrated into the transmission for a combined output of 326 hp and 465 lb-ft.
Nearly every Tacoma comes with an 8-speed automatic transmission, but a 6-speed manual transmission with rev-matching is available on the base SR trim. Models with the manual transmission get the uprated turbo-4 slightly detuned to 270 hp and 310 lb-ft, as well as a smaller 8.5-inch rear differential (uprated turbo-4 models have a 9.5-inch rear differential) with torque limited in first gear due to axle windup.