2020 Genesis G90: What A Grille!
When Hyundai Motor Cooperation decided to take a slice at the luxury market, they did so by just churning out large sedans like the Equus and Genesis. Both cars were more of a mixed bag for the company and sales were poor because "come on who will buy a Hyundai that is more than  ₦30m" mentality started to creep in. Since Hyundai now thought of separating the Genesis from the regular brand like what Toyota did with Lexus and what Honda did to Acura. Without much ado, let's take a look at the 2020 Genesis G90.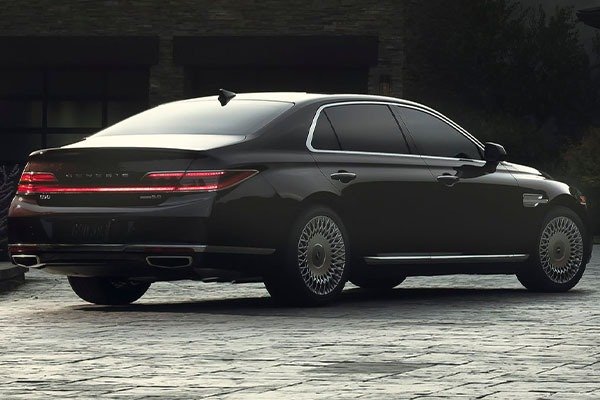 Exterior
The first thing you will notice about the Genesis G90 is the ridiculously large grille at the front of the vehicle, its gradually becoming a design language for genesis and other brands too. This trend is definitely here to stay. Despite that, it oozes luxury as any luxury sedan would and that's a good thing. The tail lamps are gorgeous to look at and the rims on the wheel are magnificent. In all ramifications, the Genesis G90 looks the path, its big, bold and it commands respect on its own right.


Interior
The interior layout of the Genesis G90 is impressive. Although it's quite familiar because most luxury brands adopt a similar design layout. The 2020 Genesis G90 introduces multiple technologies for the Genesis brand. It is the first Genesis vehicle to offer over-the-air wireless updates for maps and software. Its 12.3-inch display navigation system now incorporates touchscreen controls and a copper Graphic User Interface. Further, enhancing the technological capabilities of G90 are standard Apple CarPlay, Android Auto, and Mirror Link. Intelligent Car Management Service personalizes the driving experience by using data to analyze driving patterns to inform the driver of necessary maintenance and vehicle wear. The split screens are highlighted with signature copper accents. The G90's seats are cushy and wide and offer 22-way adjustability, while the rears pack eight-way functionality


Engine and Transmission
The 2020 Genesis G90 comes in a 3.3 twin-turbo V6 with 365 hp, 376 lb-ft which is powerful and efficient. There's also a  5.0 V8 420 hp engine which is for those who like cylinder numbers and despise turbocharged engines. Both engine variants come in the standard rear-wheel drive but all-wheel drive is also optional. An 8-speed automatic transmission is standard across the range.

The 2020 Genesis G90, offers an unparalleled level of standard active and passive safety systems as part of a brand-level commitment to passenger security and comfort. Advanced driver-assistance systems (ADAS) in the 2020 G90 add a level of assuredness to the already refined driving experience. In addition to Genesis brand-wide ADAS technology, the following new systems debut on the 2020 G90
The Genesis G90 is quite a looker with its large unconventional grille that dominates the front of the car. It's a bold step for Hyundai motor corporation to take on the German giants. To top it, it is more affordable than the S class and 7 series by a few million bucks and it's a worthy rival to them both. What do you think about that front grille? Tell us in the comment section