$3.3 Million Bugatti Chiron Hypercar Turned Heads At Defence Headquarters (Photo)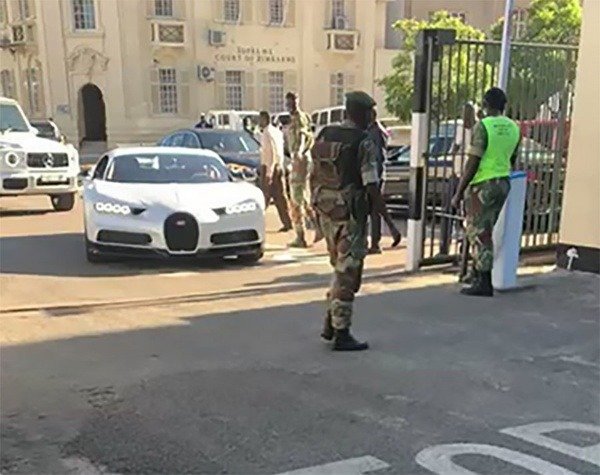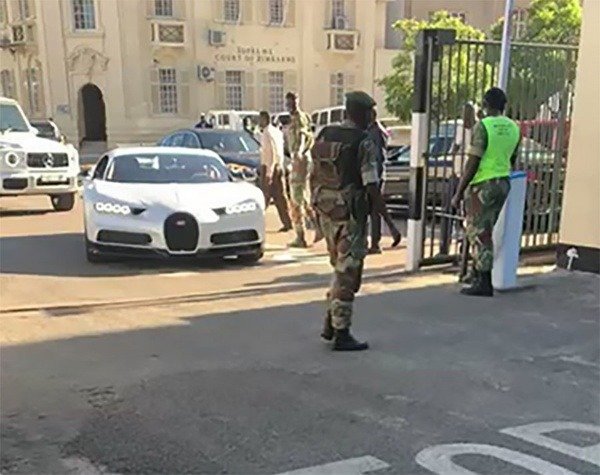 A white Bugatti Chiron Hypercar was recently spotted driving into the Defence headquarters in central Harare, Zimbabwe.
The limited-edition Bugatti Chiron, which costs a whopping US$3.3 million (₦1.2 billion), turned heads as it drives in convoy of a white Mercedes-AMG G63 into the Defence headquarters.
The identity of the owner and the purpose of the visit to the Defence House remains unknown. But it will be seen as the latest display of opulence by politically-connected elites in an impoverished nation.
Before now, only two Bugattis, owned by tycoons Frank Buyanga and Zunaid Moti – a South African, where registered in the country. Both left-hand drive cars were later shipped to South Africa because it (SA) does not register left-hand drive cars.
One of them is a $3.5m Mansory Bugatti Veyron Vivere Diamond Edition (pictured above) that was spotted last year at the Robert Mugabe International Airport.
Bugatti Chiron
The successor to the Bugatti Veyron made its official debut at the Geneva Motor Show on 1 March 2016.
Powered by a 8.0-litre quad-turbocharged W16 engine that makes a whopping 1500 Horsepower and 1600Nm of torque. The Chiron can do the 0-100kmph run in just 2.3 seconds and a top speed of 261 mph.
Since the unveiling, Bugatti has revealed different variants of the supercar. These includes the Chiron Sports, the Divo, and the world's most expensive new car, the one-off La Voiture Noire.
Bugatti plans to limit the total number of Chirons built, including the variants, to 500 cars. So far, over 300 have already been sold.