You Can Actually Play Car Video Games With Your Tesla Screen And Steering Wheel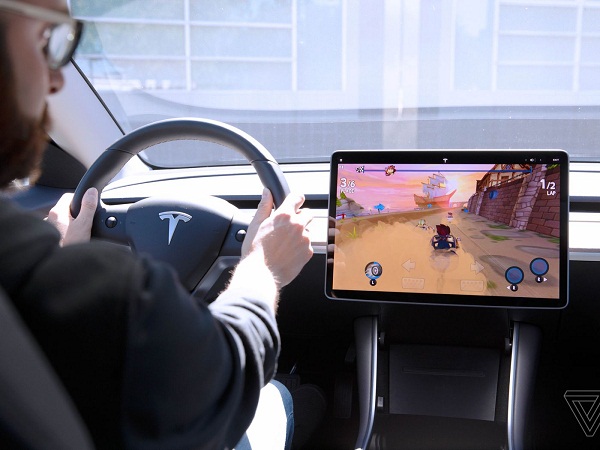 Forget about your regular video games and the ones in your mobile devices; you can actually play games inside your Tesla car with your steering wheel. Doesn't this sound interesting to you? It is actually the first of it's kind. As days go by, these Tesla guys look for ways to go beyond the 'normal'.
In march this year, Tesla launched its Tesla Arcade, an in-car gaming console platform.
Tesla Arcade has been available Tesla Model S, 3, X and Y, but the bulk of the games released to the Tesla Arcade library have old arcade classics such as Asteroids, Centipede and Missile Command. These are not actually high graphics games like Need For Speed, Mortal Combat, FIFA 2020 and God Of War.
The automobile company also have plans to make driving Tesla more fun. They want every PC game to be played on your Tesla.
"Tesla strives to make its cars the most fun possible; bringing video game experiences to the car helps increase that fun. In this incredibly rare opportunity to help build a video games platform, we are looking for a highly motivated software engineer to help enable the best video game content to be available in-car," a job posting for a Video Games Engineer, Infotainment Software reads. "Come put that industry experience to great use and help us build this platform."
How does Tesla Arcade work?
All Tesla cars include touchscreen displays which is how you play these video games on the center console. Each game puts up virtual controls on the screen to play it.
The driving game Beach Buggy takes the controls a step further and allow one player to use the steering wheel to play the game. Yes, the car tires move when you turn the wheel as well.
Who can't wait to start playing Need For Speed Game inside a car? It really gonna be fun you know.
Watch a man playing Beach Buggy Race On Tesla Model 3
Which video games do you think would be fun to be played using your Tesla screen and steering wheel?