Cubana CEO Calls Out Ray Hushpuppi; Says He Didn't Buy The Bentley And Rolls Royce But Hired Them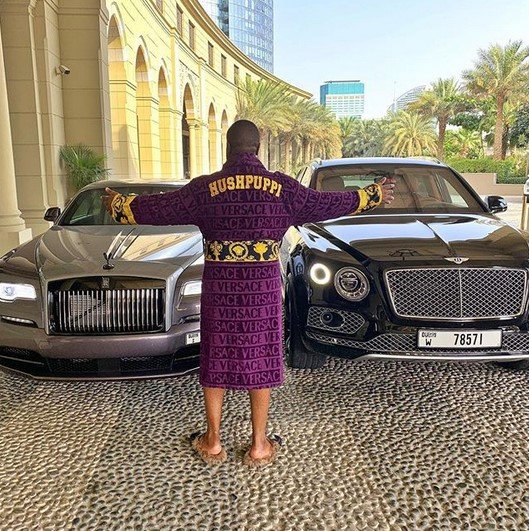 Few days ago, Ray Hushpuppi who's a self proclaimed Gucci master showed off his newly acquired Rolls Royce Wraith Black Badge Edition.  In case you missed it, you can read about it HERE.
On Valentine's day, few weeks before he bought the Rolls Royce, he gifted himself a Bentley Bentayga. On the two occasions, he shared the news using his official Instagram account.
Many didn't buy his story of acquiring a Rolls Royce Wraith and Bentley Bentayga; they claim Hushpuppi just rented the cars.
Hushpuppi's one time friend, CEO of Cubana, threw more light on this issue.
Read what he wrote below;
When You Buy Common Luxury Shoes N Cloths You Update Us Very Well With Proper Videos N Pics, Then How Come You Buy Uncommon Luxury Cars Without Updating Us Properly, You Wey We Know Wey Go Drink Champagne Or Even Coffee For The Shop, Give Us Videos When You Pay, Even Snap Receipt For Us, Dem No Even Customize Your Name For Your Bentley N Royce Specification !!!! Haba !!!! No Be You Again Hush Puppi When You Come Change, Person Wey Dey Customize Common Shoe No Come Customize Cars Wey Make People Need Prayers E Dey Somehow Na, Ojoro Don Dey Inside, You Go Just Pose For Hotel Lobby Use Two Cars Snap Say Make We Believe, Na Lie 😂, On How You No Update Us Well As Usual We No Go Gree, You Re On The Rental Side Of The People Living In Dubai🇦🇪 So My Post Was Not In Any Way Related To You Till You Update Us On The Purchase Normally Then My Post Go Reach You, My Post Was For Those Dudes Wey Buy Outrightly No Be Rentals, Na Royce I Dey Use For London, Na Velar N Benz Defender I Dey Use For Scotland Na Rent I Still Rent Dem, I Know The Level No Be We Teach Una For Malay 😂, Well My Company Is Sending Me On A Dubai Trip Soon I Will Instruct Them To Rent Me A Bentayga N A Royce Upon My Arrival, You For No Block Me Sha Before Commenting On InstaBlog E Mean Say You Dey Talk For My Back 🤦‍♂️ If I Hear 👂 From You Again I Will Update You On Things Wey I Get For Nigeria Wey You No Get…As For Things Wey I Get Abroad Well, I Have Americans Living In My House As Nigerians So The World Power USA 🇺🇸 Lives With Me In Far East Owerri🇳🇬 In Case You Don't Know They Are My Children So Nothing Remain For Abroad For Me, I Already Extended My Linage To The World Power🇺🇸 So Na Me Be Abroad Itself. For This Life No Find Person Wey No Find You, Never Allow Complex Put You For Problem #CubanaChiefPriest