From Bugattis, Koenigseggs To McLarens: This Is One Of The Greatest Hypercars Convoy You Need To See (PHOTOS/VIDEO)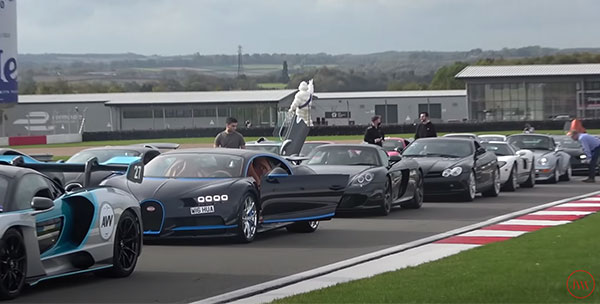 Ever heard or witnessed a parade of a large convoy of cars? A good example is that of the US President, Donald Trump's Motorcade.
Convoys basically are a group of vehicles, bikes, or ships moving together. They may be accompanied by security vehicles traveling with them for protection purposes.
Now that you know what convoys are all about, which we know you might have witnessed. However, this group of Hypercars is a sight to behold.
This party included some real heavy hitters, like a McLaren Senna, Pagani Huayra, and a very exclusive Koenigsegg Regera. It was organized by Supercar Driver (SCD) and it recently took place at Donington Park in the UK.
Video Of The Hypercars Convoy
Car events often bring out some pretty impressive cars, and if your lucky and at the right event, you might even see a supercar or two. However, it's not often that there is an event where you see a convoy of over 300 hypercars and supercars all in one place at the same event.
Mr JWW a car enthusiast on youtube is one of the people who took their cars to the event. Mr JWW attended the party with his Hypercars, including a McLaren Senna, Pagani Huayra, and a very exclusive Koenigsegg Regera. He also notes how his Porsche GT3, which would normally be a pretty big deal at your typical car show, was designated to being parked in the non-special section of the parking area. This just gives you an idea of the caliber of cars in attendance.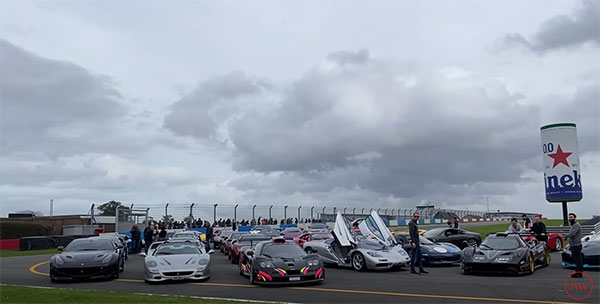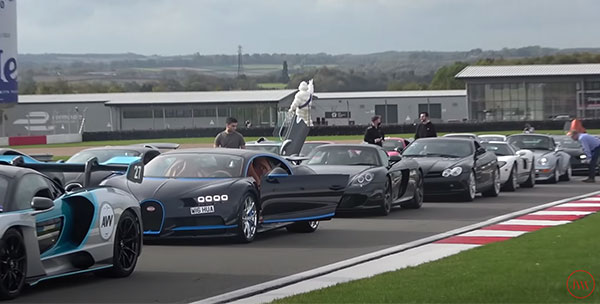 While waiting to line up with the others, James tries his best to mention every special car he sees.
Among the cars that passed by him are a very exclusive and expensive Bugatti Divo, a Bugatti Chiron, Koenigsegg One, a couple of other Pagani Huayras, a Ford GT, and a beautiful Ferrari 250 Short Wheel Base, of which he saw a second one while lined up.
Which of the Hypercars in the convoy is your most favourite?