Lamborghini Aventador Bids Farewell As Final Model Leaves The Production Line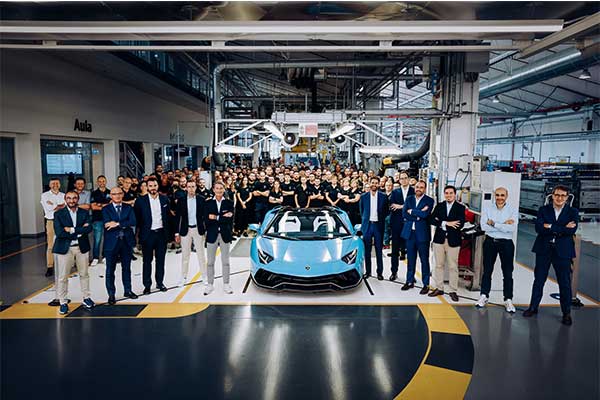 The Lamborghini Aventador has bowed out of production with the completion of the last LP 780-4 Ultimae, which is also the brand's last pure-V12 production car. This brings to an end the model's 11-year run. According to the press release, the last Lamborghini Aventador ever made is a custom order LP 780-4 Ultimae Roadster finished in a special blue colour. The supercar is headed to Switzerland.
Launched at the 2011 Geneva motor show, the Aventador is Lamborghini's most popular V-12 model to date, having generated eight variants, not counting low-volume specials and sales of 11,465 units across the globe. That's more than the combined sales figures of all previous V-12 models.
"The Lamborghini Aventador was a game-changer at its launch, and the flagship Lamborghini model for 11 years of production," said Stephan Winkelmann, Chairman and CEO of Automobili Lamborghini. "The Aventador is a jump of two generations in terms of design and technology, with an exceptional package of unique, innovative technologies and performance that is simply overwhelming."
Lamborghini made sure the final model was the most powerful, with the 6.5-litre unit producing 10 bhp more than in the previous range-topping Aventador, the Lamborghini Aventador SVJ, sending 769 bhp (780PS, hence the name) to both axles. The Aventador-based Essenza SCV12 produces 819bhp but is limited to track use.
The Ultimae's 531 lb-ft torque peak matches the SVJ's, with which it shares its power-to-weight ratio. But with a 0-62mph time of just 2.8sec and a top speed of 221mph, the Ultimae is the fastest road-going Aventador.
A plug-in hybrid replacement is expected to be revealed later this year, having been spied testing.