Mercedes-Benz E-Class Evolution From 1953 To 2020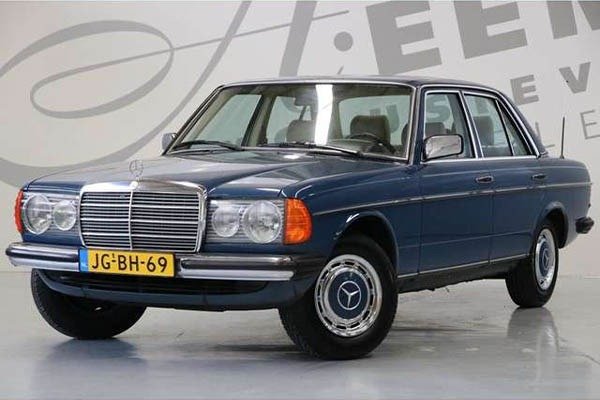 With over 14 million units delivered since 1953, the E-Class is the bestselling model series in the history of Mercedes-Benz. The Mercedes-Benz E-Class is an executive sedan we all grew to love over the years. It's an iconic Mercedes-Benz. The E-Class came out a long time ago in the 50s but it wasn't called an E-Class back then. These vehicles had code names that some of us may know or may not know.  In this article, we will be looking at the various models of this iconic vehicle.
First Generation W120/W121 (1953-1961)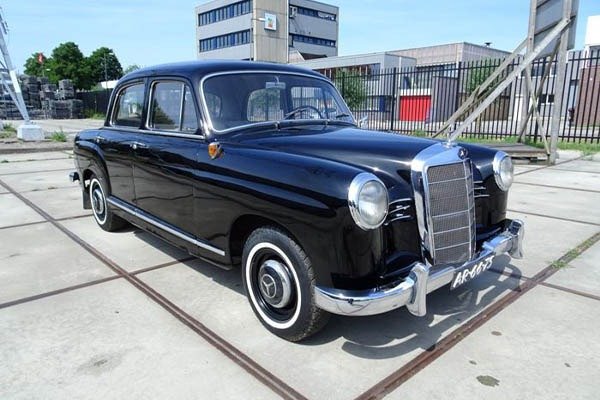 Like I said before, these cars were not directly called an E-Class but it all started from here. In fact, the E-Class code name is W followed by a number series. This particular model was called W120 and a slightly revised model was called W121. It was available in only a 4 door sedan. Its engine was only a 4-cylinder powerplant and it consists of either 1.8 or 1.9 liters either petrol or diesel. This car was a little compact in looks
Second Generation W110 (1962-1968)
The W series still continued as this one was bigger than before. It had a long boot and bonnet than before. This model spanned 2 series with the second series coming in 1965 and for the 1st time offering an inline 6 cylinder engine. It was still available in a 4 door sedan and available in a 2.0 litre 4 cylinder and a 1.9 diesel 4 cylinder. The series 2 in 1965 came with bigger engines including a 2.0 diesel and a 2.3 inline 6 cylinder.
Third Generation W114/W115 (1968-1976)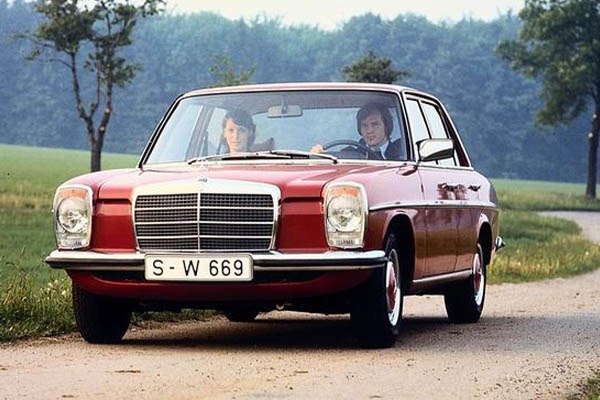 Ah ha, this model was gaining popularity in Nigeria in the early 80s. This model was used by former President Murtala Mohammed and many world leaders. This vehicle for the first time had a 2 door coupe and a limousine variant. This was the first W series to use a 4- speed automatic transmission and a new 5- cylinder engine layout. The engine layout remains the same as previous with the addition of a new 2.5 and 2.8 inline 6, a 3.0 inline 5 diesel, a 2.4 diesel 4 cylinder and a 2.2 diesel 4 cylinder. This model is now regarded as a classic among Nigerians as a few celebrities have it. This clean W115 was also spotted in Nigeria.
Fourth Generation W123 (1976-1986)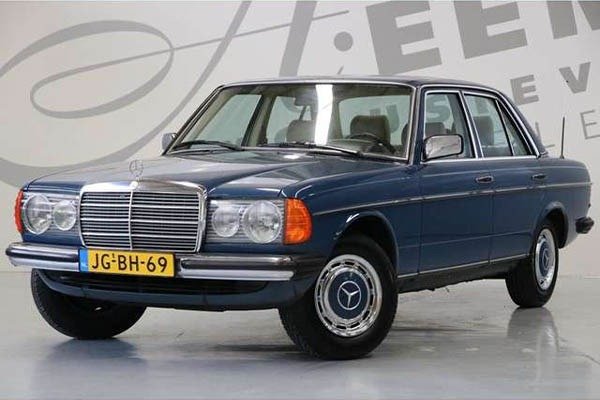 "REGULAR" now I guess most of us will definitely remember this hell of a kind Benz. In Nigeria, it was nicknamed REGULAR and it created a lot of buzz in the late 90s /early 2000s. In recent years, it has become a collectors item. It's reliable, strong and very decent and loaded with great features including driver and passenger airbags.  Mercedes-Benz further increased the variation by adding a station-wagon, a coupe, and a convertible. The car was used by popular Nigerian artist Tony Tetuila in his hit song "My Car". It was available in so many engines but the popular engines we know are the 2.0 and 2.3 which are 4 cylinders, a 2.8 inline 6 and a 3.0 inline 5 diesel. There was also a 2.0 and 2.2 diesel. this vehicle was mated with a 5-speed manual and 4-speed manual or automatic.
Fifth Generation W124 (1986-1997)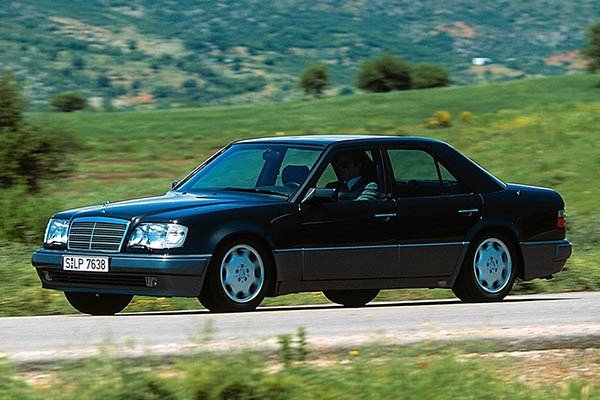 Now we are entering the modern era gradually and this car is a masterpiece. It's also called V-Boot in Nigeria. This is the Mercedes that had the E-Class name for the 1st time. It was gorgeous with lots of options to choose from. This E-Class was the first Mercedes to come with the famous 4-Matic Four-Wheel-Drive system as well as the E-Class to come with the AMG treatment. It was available in sedan, station wagon, coupe, and convertible variants.
The V-Boot was the first E-Class to come in a V8 engine under the hood. Engines were so many and as usual only the popular engines we know of are: the 2.0, 2.3-4 cylinder petrol, a 2.6, 2.8, 3.0 and 3.2 inline 6. The V8 engines are 5.0, 4.2 and 6.0 (AMG). Diesel engines are also available to choose from and all cars are mated with 4/5 speed automatic and 4/5 speed manual.
Sixth Generation W210 (1996-2003)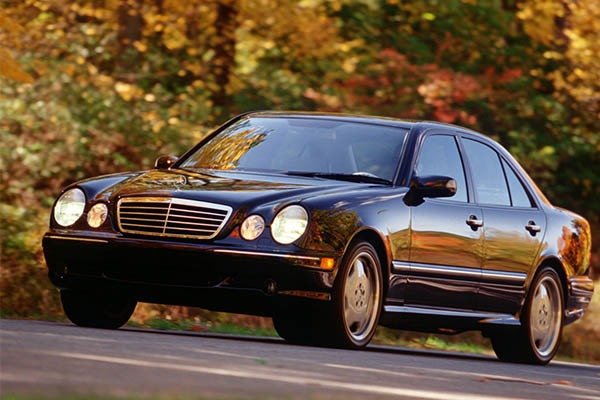 The "Opolo Eye" as we all know it. An E-Class that is one of a kind with so much uniqueness. The design was so unique and it had circular headlamps which were eyecatching and became the signature of the E-Class range for a long time. It was a total improvement in all aspect and it was Mercedes's best selling vehicle at that time. It was available in only a sedan and wagon coupled with so many engines with the 2.0, 2.3 4 cylinder petrol, a 2.4, 2.8, 3.2 and 3.6(AMG) 6 cylinder petrol, 4.2, 4.3 V8 and the AMG line up which were 5.0, 5.4, 6.0 and 6.2 (all V8 engines). 4 Matic is optional and all E-class are mated with a 5/5 automatic and manual together with a 6-speed manual.
Seventh Generation W211 (2003-2009)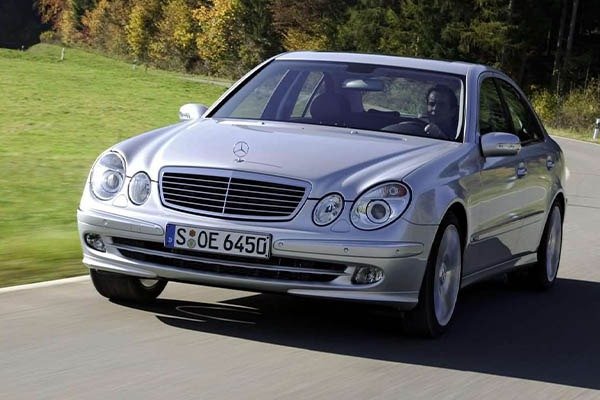 The 2003 model year E-Class was a total model change and used the same aesthetic as the 2000 S-Class sedan. The E-Class still maintained the circular headlamps that made it distinctive from other Benz. It was bigger and wider than the older model with better interior and engines. The interior was more ergonomic with a nice fit and finish. The COMMAND SYSTEM was now a standard feature with its intuitive controls and functions. Engines include a 1.8 and 2.0-4 cylinder engine, a 2.6, 3.0, 3.2 and 3.5 inline 6, a 5.0, 5.4 V8 engines and 5.4 and 6.2 AMG engines. Mercedes-Benz fully integrated the  7-Gtronic automatic transmission together with the 5-Gtronic and a 6-speed manual.
Eighth Generation W212 (2010-2016)