This Is The Most Expensive Of Neymar's Several Billions Worth Cars (PHOTOS)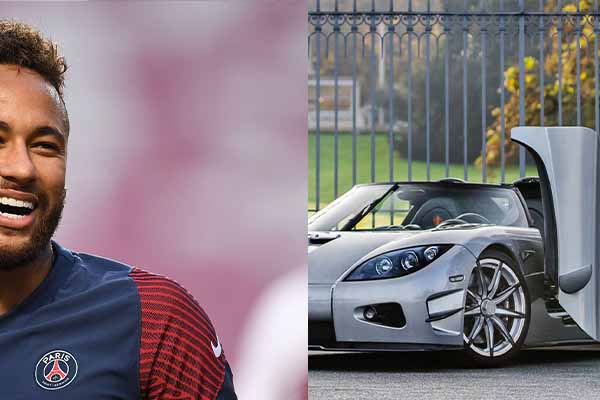 There is no misgiving and gainsaying that Neymar Jr. is one of the world's best and richest footballer.
The super Brazilian footballer who was a formal Barcelona player and currently play in the French league, Paris Saint Germain to be precise.
Without any doubt, Neymar is one superstar that loves to be stylish and classy; he is rich as he remains the player with the most expensive transfer in football history, having moved from Spanish club Barcelona to Paris Saint-Germain with a shocking fee of €222 million ( about N93.5 billion) in 2017.
As of 2018, the Brazilian star had an estimated net worth of $185 million (about N67.6 billion) and although the figures are smaller than that of Cristiano Ronaldo and Lionel Messi, Neymar still has age on his side.
His current contract with the French club sees him earn a staggering €707,692 (N298 million) every week.
He currently owns two luxury private jets, a yacht $8 million (about N2billion) which requires $120,000 for yearly maintenance cost.
He owns a Lamborghini Veneno – N1.6 billion, a 2-door hypercar fitted with a 6.5-litre engine and can reach a top speed of 356 km/h.
The PSG sensation also owns a super rice Lykan Hyperspor worth N1.2 billion. It's powered by a 3.7-liter engine. It also has an F6 twin-turbo engine as it can reach a top speed of 395 km/h.
Neymar is also an owner of an Aston Martin Vulcan worth N840 million a Ferrari 458 Italia worth about N94 million, a Mercedes AMG of N57.3 million, a Maserati Mc12 priced N245 million, a Volkswagen Touareg V8 FSI worth N18 million, a Volvo XC 60 worth of N27.3 million, an Audi Q5 which cost about N16 million, an Audi RS7 Sportback – N60 million, as well as an Audi R8 Spyder worth N59 million.
However, the most expensive car as at 2020 in Neymar's gallery is the N1.7billion Koenigsegg CCXR Trevita – a Swedish manufacturer which comes with 4 valves on each cylinder. This car can travel up to a top speed of 425 km/h.