German Police Riding Bicycle Seizes ₦100m Lamborghini That Blocked Electric Car Charging Point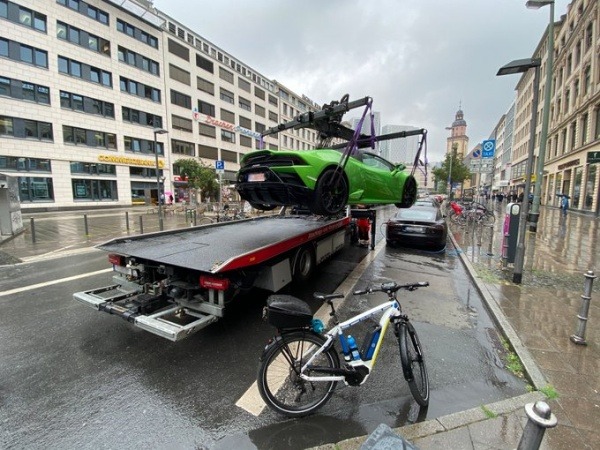 German police riding electric bicycle seizes ₦100m+ Lamborghini sports car that blocked electric car charging points.
The Lamboghini owner has now incurred a hefty fine for not obeying simple rules.
Driving a luxury sports car worth over ₦100 million is not a licence to park just anywhere, especially in a developed country like Germany.
So when police on electric bicycle spotted a parked Lamborghini Huracan Evo Spyder blocking access to an electric vehicle charging point in Frankfurt, the cop wasted no time in asking for help from a tow vehicle.
The lamboghini owner who failed to obey the simple rules has now incurred a hefty fine that will make him think twice about doing the same again.
In addition to paying a fine to get his car back, the owner will also pay for the number of days at which the car was held.
All these will only take place after showing proof of insurance and evidence that he owns the car at the police station.
Germany is one of several countries that has fully embraced the electric car revolution.
Despite boasting some of the biggest automakers in the world, including BMW, Mercedes and VW, the country aims to fully ditch ICE cars on its roads by 2040.
Most streets and homes in the country now boasts of electric car charging points to help facilitate the introduction of battery-power cars.