See The Newly-Built Pedestrian Bridge At Secretariat Bus-Stop, Lagos-Ibadan Expressway By The Lagos State Government (Photos)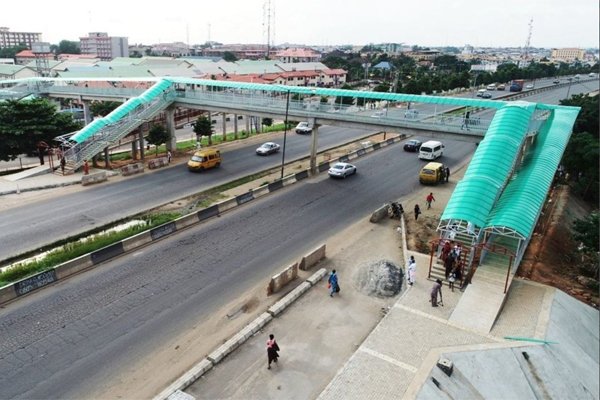 A new pedestrian bridge built by the Lagos state government has been completed.
The bridge which is located at the  Secretariat bus stop, along the Lagos-Ibadan Expressway.
The pedestrian bridge will particularly be of benefit to residents of the Magodo 2-CBD-Alausa-Secretariat axis of the state.
For years, residents of that axis had yearned for a pedestrian bridge to enable pedestrians navigate both sides of the ever busy Lagos-Ibadan expressway section of the area.
In the past, many people have lost their lives there in an attempt to cross the road.
In response to their yearnings, the indefatigable Governor Ambode graciously approved the construction of a pedestrian Bridge at that location.
The pedestrian bridge is designed to link the Lagos State Secretariat, Alausa, with Magodo Phase 2 gate on CMD Road along Lagos-Ibadan Expressway.
The Pedestrian Bridge is being constructed by the the contractor, China Civil Engineering Construction Company (CCECC).