Checkout The N34Million Hearse Used At The Burial Ceremony Of Billionaire Founder Of Tonimas Oil and Gas (PHOTOS)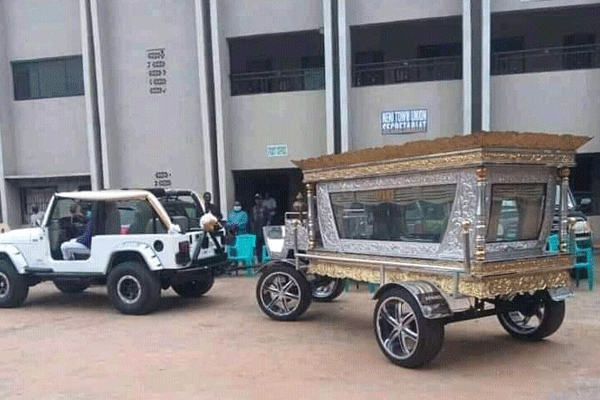 Driving on some roads especially in Southern Nigeria, chances are that you would run into a Tonimas Fuel Station.
Chief (Dr) Sir Anthony Obiagboso Enukeme, the founder of Tonimas Oil & Gas,  died on Tuesday, 9 June 2020. He died at the age of 76 years.
The oil magnet was recently laid to rest in his home town in Neni, Anambra State.
The grand event took place on Tuesday, 14 August 2020. The Thanksgiving Mass held on Sunday, August 16 in the same church.
Chief Enukeme's burial attracted a large crowd including the high and the mighty in society. This was despite the lingering Covid-19 pandemic.
Senate Chief Whip, Dr Orji Uzor Kalu, attended the Requiem Mass held in honour of Enukeme, his long-standing friend.
Others who attended the burial included Dr Alex Otti, Ben Kalu of the House of Reps, Dr Madukwe Ukaegbu, among others.
The elaborate ceremony witnessed a parade of a rather usual hearse. The exquisite hearse bore a glass casket that had the remains of the late Enukeme. The hearse was drawn by a white Wrangler Sport Utility Vehicle.
The entire assemblage of the hearse and the glass casket was reported to have cost a whooping N34Million.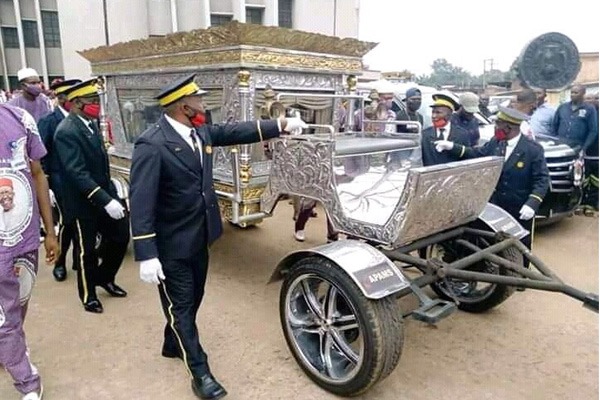 Chief Enukeme had a Bachelor of Science Degree in Public Administration and a Masters Degree in International Affairs and Diplomacy, both from Abia State University, Uturu, with an Honourary Doctorate Degree in Business Administration from Chukwuemeka Odumegwu Ojukwu University.
Check out below photos of the hearse and the glass casket that has got people talking, especially on social media.