Bad Roads: Lagos Intensifies Efforts To Fix Potholes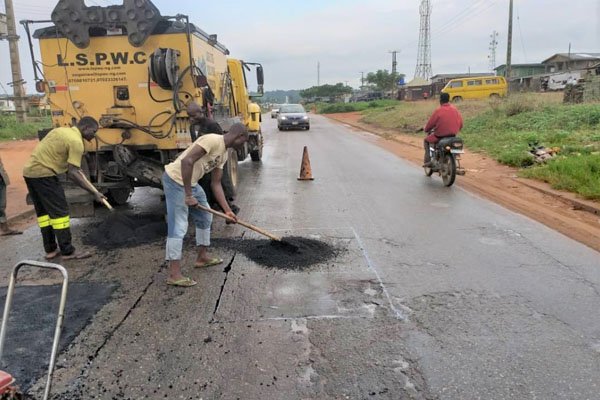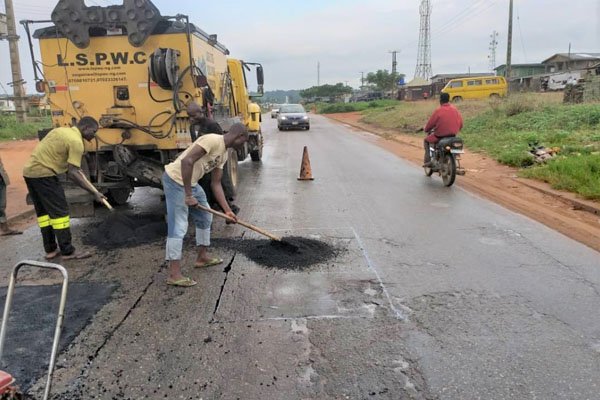 The Lagos State Public Works Corporation, LSPWC, has urged Lagos residents to be patient as it doubles efforts to fix potholes and ensure roads remain motorable as we approach the last quarter of the year.
The General Manager of the Corporation, Engr. Olufemi Daramola disclosed this yesterday during a chat with news correspondents on the activities of the Corporation since mid-June 2019.
He said LSPWC is fully aware of the situation of roads in the State and efforts are in top gear to alleviate the discomfort commuters encounter on some of the bad roads, emphasising that the Corporation is determined to rehabilitate all damaged roads in furtherance of the Executive Order of Governor Babajide Sanwo-Olu.
He explained that palliatives with boulders and crushed stones were done at Oke-Afa, Isolo, Ejigbo, Ikotun-Ijegun axis, Oba Sekumade and Bayeku Road at Ikorodu, Ahmadu Bello Way and other similar strategic roads, adding that the Corporation also graded Ikorodu Road and Mile 12 inward Ketu on Tuesday to reduce travel time and ameliorate the trouble commuters experience on the axis pending a permanent solution.
While noting that challenging road situations ranging from potholes, isolated potholes, craters and failed portions of roads across all the Local Governments preceded his assumption of office, he revealed that a lot of resources to repair non-functional equipment and plants have been invested by the present administration.
Daramola assured residents that the State government is working hard to ensure that pot-holes on major roads are drastically reduced or totally eliminated, and in cases where they occur, the response rate by the Agency would be faster, stressing that some of the roads have outlived their life span.
The General Manager also acknowledged that the number of bad roads in Lagos is high and must be done in phases according to the level of importance, emphasising that the Corporation has a strong mandate to get rid of potholes
in the city within the shortest possible time.