Coscharis Welcomes BMW R1250gsa Stopover In Nigeria In A Tour Of Africa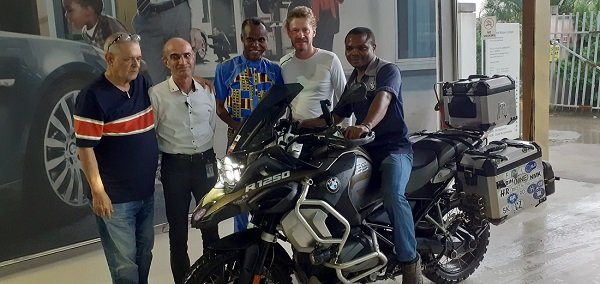 Coscharis Motors Welcomes BMW R1250gsa Stopover In Nigeria In A Tour Of Africa.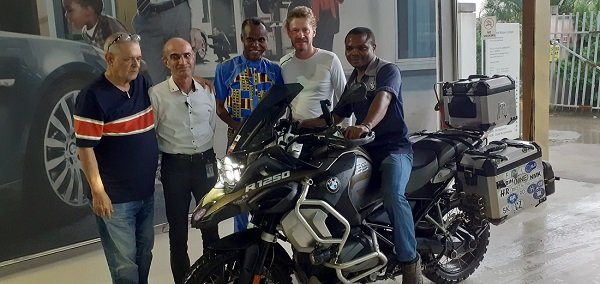 BMW Motorrad's vision is ambitious but simple: "Becoming the most desirable motorcycle brand in the world." Coscharis Motors has sold and serviced a series of BMW Bikes since the 2000 immediately it got the BMW franchise in Nigeria.
While the Coscharis Motors most prominently sold model remains the BMW R1200 series, which is the BMW Authority bike, the company services an array of BMW Bike models.
Coscharis welcomed a BMW Bike enthusiast and owner, Mariusz Sliwa from Germany who started his touring journey from Germany. Sliwa intends to tour the stretch of Africa in his BMW R1250GSA.
According to Mariusz Sliwa, he embarked on the tour because he drives for fun and always want to be on the road. He also said driving a BMW bike makes the journey easy. This confirms the Motorcycle Industry Council Consumer Experience Study that shows that BMW Bike owners are "experienced riders" who have 34 years of riding experience and cover 3 times as many miles as the average adventure bike owner in a year (5,000 vs 1,700).
For Mariusz Sliwa, his confidence in the BMW GSA model plus its reliability, prompted him to tour the length of Africa. He started his Journey from Germany – Holland – Belgium – France – United Kingdom – Ireland – Spain, ( 28 hours on the ship to Spain from Ireland), from Spain to Morocco and then to Nigeria via Benin. From Nigeria, he plans to ride en-route Cameroon, South Africa and so on till he finishes the tour. He has set a one year target to complete the tour.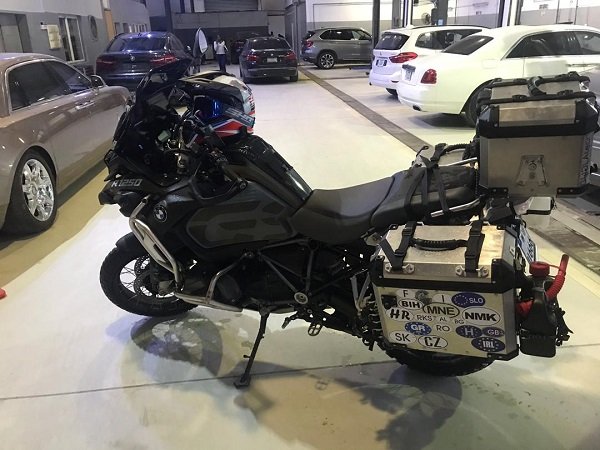 The base R1250GSA is only available in Ice Grey, but there are lots of new pieces for 2019. The intake snorkel cover, radiator cover, and crash bars (both for the engine and tank) are all new, as is the black GS molded cover on the storage compartment on the top of the tank. There are also steering geometry and wheelbase differences compared to the previous year.
Coscharis Motors is the sole franchisee of BMW vehicles and Motorrad in Nigeria since early 2000. It currently has sales and service networks across the six geopolitical zones in Nigeria.