Is This The Riskiest Job In Lagos? (See PHOTOS)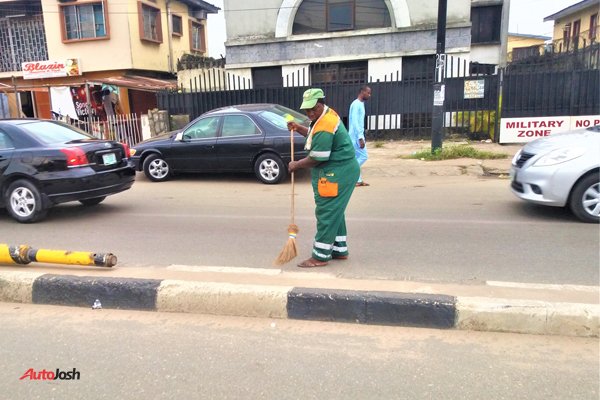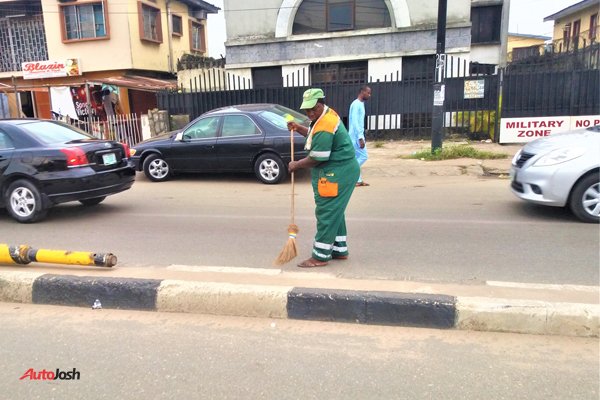 This has to be one of the riskiest jobs in Lagos. It is the job of cleaning roads and streets in Lagos.
The job involves sweeping up the ever-busy roads in Lagos, even right in the midst of very active vehicular activities.
Work, for these road managers, resumes at 6am – just at the time when motorists in Lagos are known to race to work at dizzying speed.
Even more worrisome is the fact that those recruited and exposed to such high-risk activity are people well over 50 years old. This is in a state with a reputation for high number of reckless and "one-way" drivers.
Some of these road managers have been reportedly hit by motorists. Such occurrence has left them either severely injured or dead.
That notwithstanding, in a society with a terrific shortage of employment opportunities – choices are quite limited for these road managers.
By the way, this job is carried out by individuals employed by the Cleaner Lagos Initiative (CLI).
In 2017, the Lagos state government set up the Cleaner Lagos Initiative (CLI) as a comprehensive plan to privatize all aspects of waste management in the city.
Currently, Lagos state has the record of having the largest amount of domestic and industrial waste in the world. This is put at 13,000 tonnes per day. This is followed by New York's 10,000 tonnes per day.
CLI has an ambitious goal to make Lagos the cleanest and greenest city in Africa by 2025. Currently, the former war-torn Kigali, capital city of Rwanda is ranked the cleanest city in Africa.
CLI set out to recruits 27,000 community sanitation workers (CSW) or highway managers across the state. The recruitment was publicized via various media channels.
In the advertorials, it was stated that successful candidates would be entitled to some benefits, such as decent wages, healthcare service, protections such as insurance and pension guarantees, etc.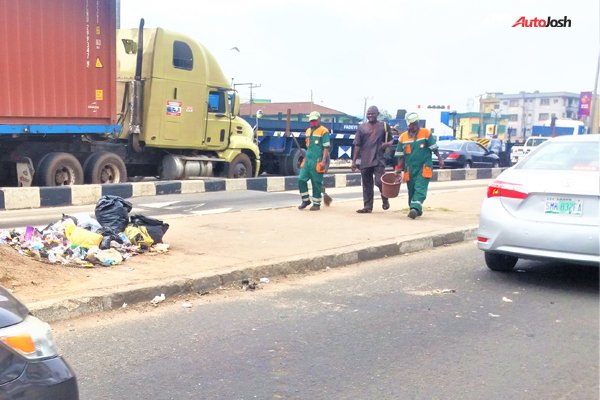 However, when Autojosh.com interviewed, some of these highway managers  or community sanitation workers (CSW),  they admitted that they are not enjoying most of the benefits that they were promised during their recruitment.
For instance, they were not given employment letter or an ID card. They also admitted no knowledge of any health or pension scheme, etc.
And how much do they earn monthly?
N18, 500.