2 Lamborghini Aventadors In A Drag Race On Lekki-Ikoyi Bridge (VIDEO)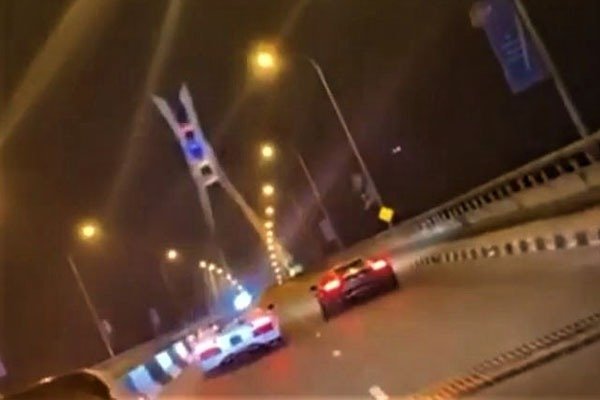 2 Lamborghini Aventadors In A Drag Race On Lekki-Ikoyi Bridge (VIDEO)
When you have a speed demon like a Lamborghini Aventador, there is always the temptation try it out for speed.
Two Lagos "Big Boys" decided to do just that!
They decided to engage their Aventadors in a drag race. The venue was the Lekki-Ikoyi Bridge. Ostensibly, the time was late in the night, when vehicular traffic is at its lowest there.
Lamborghini Aventador
The Lamborghini Aventador ranks as one of the fastest street-legal cars you can find.
Lamborghini claims that the Aventador can accelerate from 0–97 km/h (0–60 mph) in less than 3 seconds and will achieve a top speed of more than 217 mph (349 km/h).
The Lekki-Ikoyi Bridge is about 1.36 Kilometers (km).
Which means, at top speed, and baring any impedance, the Aventador can cover the entire length of the bridge in few seconds.
In other words, barring any impedance, that car can get you from Lagos to Benin in about 1 hour!
The Aventador is a mid-engine sports car. The speedy vehicle is produced by the Italian car manufacturer, Lamborghini.
The Aventador was launched on 28 February 2011. The coupe version is equipped with a V12 engine. The vehicle was designed to replace the then-decade-old Murciélago as the new flagship model.
In July 2018, Lamborghini celebrated the making of its 8000th Aventador.
The cost of a Lamborghini Aventador in Nigeria is in the region of N120 million.
Watch the snippet of the drag race below and tell us what you think in the comment section below.