Rate This Lamborghini Knock Off From 0 – 10 (PHOTOS/VIDEO)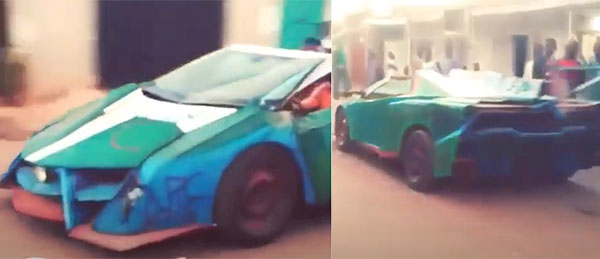 Rate this Lamborghini knock off from 0 – 10. The Lamborghini wannabe was built by a sports car enthusiasts from Northern part of Nigeria.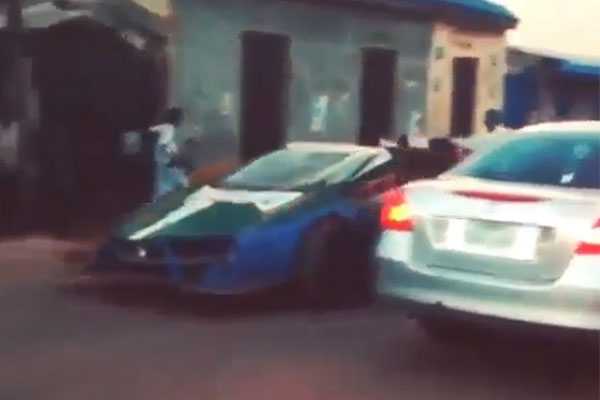 Creativity has sprung forth again somewhere in the Northern part of the Country after a Lamborghini-styled car was seen cruising on the road.
In a short video clip a social media user posted on his social media page, onlookers can be heard cheering up the young designer behind the creation.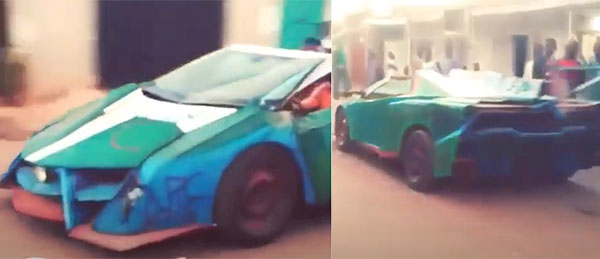 The young designer drove his Lamborghini knock off with all excitement, applauding himself for the idea he brought to a cheer able reality. To erase all doubt, he carried beside the driver's seat a passenger.
No one knows the engine that powers this repackaged car, but the restyled kit car comes with an eye-catching green, blue and white colors, and some touches of red.
These creativity initiatives are an indication to the foreign countries that Nigerians are highly sophisticated in knowledge.
Recall that another Nigerian, Muhammad Abdul, also transformed an old VW Beetle into a Rolls-Royce limousine of some sort. The auto technician dreams of building classy cars became a reality after spending months to replicate the car.
Lamborghini
Lamborghini is an Italian brand and manufacturer of luxury sports cars and SUVs based in Sant'Agata Bolognese. Volkswagen Group owns the company through its subsidiary Audi.
Ferruccio Lamborghini, an Italian manufacturing magnate, founded Automobili Ferruccio Lamborghini S.p.A. in 1963. This was to compete with established marques, including Ferrari. Automobile used know the company for using a rear mid-engine, rear-wheel drive layout.
The firm's ownership changed three times after 1973, including a bankruptcy in 1978. American Chrysler Corporation took control of Lamborghini in 1987 and sold it to Malaysian investment group Mycom Setdco and Indonesian group V'Power Corporation in 1994.