DICON Partners With Innoson Vehicles In Producing Military Hardware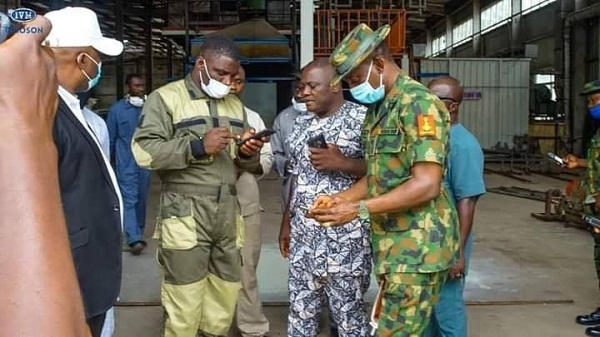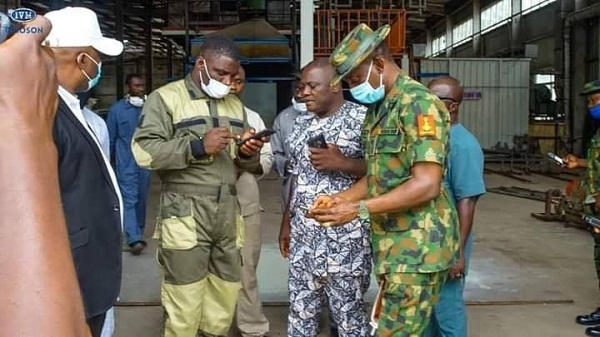 The team of Defence Industries Corporation of Nigeria (DICON) paid a courtesy visit to the CEO of Innoson Vehicle Manufacturing(IVM), Chief Innocent Chukwuma at his Nnewi factory in Anambra State on 26th August 2020 as the duo is set to partner in the production of MRAP EZUGWU.
DICON in collaboration with the Command Engineering Depot (CED) produced a Mine Resistant Armoured Protected Vehicle named EZUGWU MRAP. It is currently in use by the Nigerian Army for executing insurgency operations in the North-East.
The team intends to further partner with IVM in order to produce more military-grade vehicles, patrol vehicles, and soft skin vehicles for the Armed forces and other security agencies.
The DICON Team which had a tour round the IVM facility comprises of:
Maj.Gen V.O. Ezugwu, DG DICON (Team Lead)
Mr Livingstone Nwaigbudu ( Director P&BD),
Engr. Shedrack Agbo (Consultant DICON/CED Imperium Nig.Ltd), and
Engr. Terra Addingi (Consultant DICON/CED)
According to the team lead, Maj.Gen V.O. Ezugwu, the collaboration with IVM is inline with the FG's drive to boost local content and encourage indigenous production in the country.
According to Chief Innocent Chukwuma, he will partner and support DICON in its production in order to assist the FG in its fight against insurgency in the country.
Defence Industries Corporation of Nigeria (DICON) is the state-run defense corporation of Nigeria and operated by the Nigerian Armed Forces. It is responsible for the production of defense equipment and civilian products and was founded in 1964.