Lagos Commercial Drivers Protest Alleged Extortion By Task Force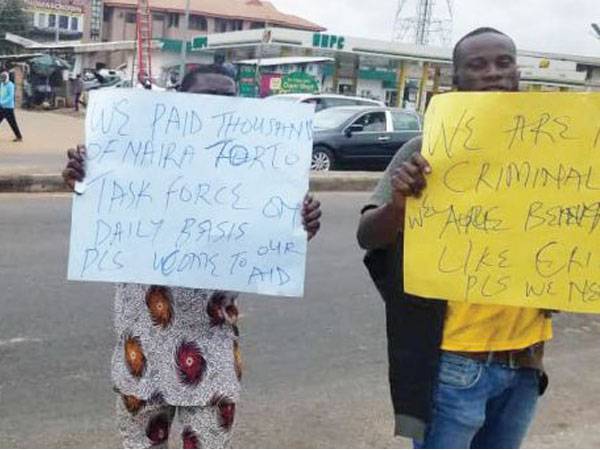 Some commercial drivers plying the Iyana-Ipaja area of Lagos State and its environs, on Tuesday, went on a protest. They were protesting the alleged harassment and extortion by personnel of the Lagos State Task Force on Environment and Special Offences Unit. Drivers protest
The drivers protest saw them carry placards with various inscriptions, left commuters stranded for hours.
The drivers noted that over 30 buses were impounded on Monday. They were impounded by the agency in the Ojodu-Berger area of the state.
They urged the Lagos State Government to scrap the agency. The drivers alleged that personnel of the task force usually extorted between N40,000 and N50,000 whenever their buses were impounded. Drivers protest
Accordig to one of the drivers, Abel Ayoade, "The officers usually come out as early as 5am and start impounding vehicles. They then take them to their office in Oshodi. There, we have to pay between N40,000 and N50,000 before each bus can be released.
"So, we decided to withdraw our services today (Tuesday). This we did to protest the illegal activities as well as bring them to the attention of Governor Babajide Sanwo-Olu.
"The harassment and extortion must stop; they are getting unbearable. We have families to fend for. We are not armed robbers; that is why we are doing legitimate work."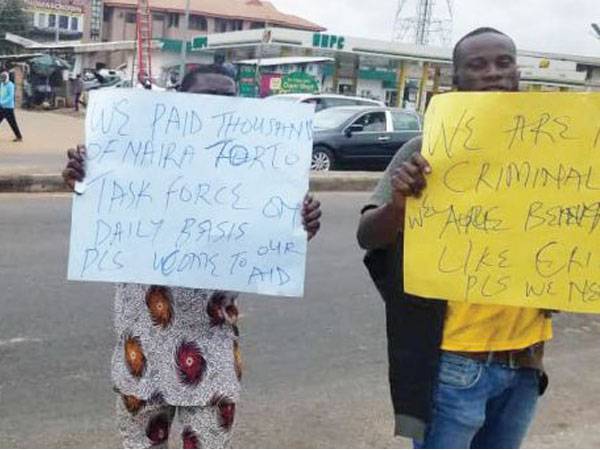 Reacting to the allegations by the drivers, the Public Relations Officer for the task force, Adebayo Taofiq, stated that the drivers were responsible for the gridlock being experienced in the state.
He said, "In as much as the drivers are not ready to comply with the state's traffic law, they will continue having problems with the state traffic law enforcement agencies, particularly the task force.
"The drivers cannot differentiate between a garage and a bus stop; most of them will line up at designated bus stops and turn them to garages, which the state government will not tolerate.
"If drivers are arrested, they are always arraigned before the mobile court; there are instances of some persons impersonating the task force personnel, but we use to tell them that our men have their jackets with their names inscribed on them. Driver protest
"If the drivers are ready to comply with the law, then, the government is ready to allow them to work. There is no room for extortion and nobody is harassing them unnecessarily. What we are telling them is to comply with the law and if any one of them feels that they were unduly harassed, they have the right to approach the chairman of the task force at our office at Bolade, Oshodi, to lodge a complaint."