Land Rover Defender Convertible Teased But Not By British Manufacturer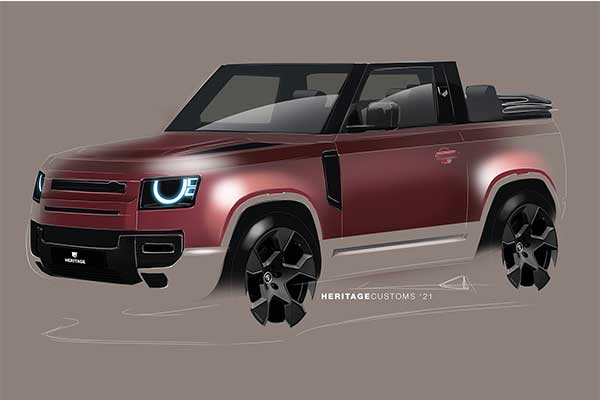 The Land Rover Defender is well known for being a highly versatile vehicle that can be a pickup, convertible, or military troop transport, depending on what a user wants to do. The automaker doesn't have as many variants of the latest Defender yet, but the company Heritage Customs now shows off its plan to build a droptop version.
Based on the smaller Defender 90, this coach-built convertible looks quite unlike any other Defender we've seen. Although it appears to be more of a style statement than anything else, it does allow for that appealing open-air feel when going off-roading.
The vehicle comes in custom exterior shades, with a handcrafted bespoke interior featuring spinney beck leather upholstery, Magic Metal elements, handmade enamel Heritage Customs emblems, and a variety of forged wheel designs. The company has teased three different configurations for the Valiance Convertible, inspired by beautiful beaches and Land Rovers' heritage – the Côte d'Azur, the Solihull Sand, and the Kokkini Paralia.
Heritage Customs doesn't offer any powertrain details about its Valiance Convertible. The modifications don't appear to affect the front end, so any of the Defender's engine options should work. That means a person might conceivably be able to get the 5.0-litre supercharged V8 that makes 518 horsepower (386 kilowatts) and 461 pound-feet (625 Newton-meters) of torque.
Heritage Customs' soft-topped Defender starts at a smidge more than $155,000 (at current exchange rates). This sum includes the cost of the approximately $74,000 Defender 90 donor vehicle.