The Amazing Car Collections Of Boxer Tyson Fury
You're about to see the amazing car collections of Tyson Fury. Tyson Fury is a 31-year-old British professional boxer. Just like many other sportsmen, Tyson Fury has good taste when it comes to cars. We would reveal to you the amazing cars owned by the the British boxer who has won various heavyweight titles. Just like Floyd Mayweather, Fury's fans are aware of his enthusiasm for luxury car and the exorbitant life he lives.
Tyson Fury's car collections will leave you in awe. He has amazing cars like Rolls Royce, Range Rover, Ferrari, just to mention but a few. These cars are not just the base options; they are modified to his taste. What do you expect from a sportsman who earns a fortune just in one fight?
NB: All the prices stated in this post do not include destination cost to Nigeria.
These are the cars in Tyson Fury's garage
1. Rolls Royce Phantom:
Hardly will you see a very wealthy man who does not own at least one Rolls Royce. The Rolls Royce brand is one of the most luxurious brand we have in the world and their cars are top notch. Fury knows how near-perfect Rolls Royce cars can be and that he needs one. He went for a ₦170 Million Rolls Royce Phantom. This car was in Tyson's garage until he sold it off. The car was sold when his career hit the rock and was battling with depression.
2. Mercedes Benz S-Class:
The Mercedes Benz S-Class is one of the cheapest cars owned by the boxing champion. He bought the car just after selling his Rolls Royce Phantom.
3. Ferrari California:
The value of this Ferrari California in his collection is around ₦75 Million.However, he sold this car to his friend during his career saga.
Our very own Regina Daniels has been seen cruising in one of it in Abuja.
4. Ferrari GTC Supercar:
The Ferrari GTC Supercar is one of the most expensive cars in Tyson Fury's car collections. ₦141 Million is what the British boxer had to let go just to own this car. He also showed off this expensive car when he confirmed his boxing rematch with Deontay Wilder. This is the car Fury drove when he attended an event with fans in Teesside.
5. Ferrari Portofino:
From the look of things, Fury loves Ferrari. As if the Ferrari California and GTC Supercar is not enough, he also have the Portofino. The Italian wonder-on-wheel cost him a whooping sum of ₦78 Million. This is a very similar owned by his friend Billy Joe Saunders.
6. Rolls Royce Dawn:
On his Instagram page, he put up the picture of the Rolls Royce Dawn and wrote: "When hard work and talent pays off. Washed in the blood of the lamb. Reaping the rewards of my glory."
He splashed ₦133 Million just on this one.
7. Range Rover Sports SVR:
We were not joking when we said Fury has a good taste of cars . It's not just an ordinary Range Rover Sports, It's an SVR. Those initials stand for Special Vehicle Operations, with R denoting the most powerful of Land Rover's performance arm. The SVR comes with only one engine: a 5.0-litre, 542hp supercharged petrol V8 engine.
He got this car for himself when he got back to the ring after his depression. On his social media Fury said: Massive thanks to @automotivefashion for wrapping my SVR, looks & feels great. Army edition." Fans had mixed views about his car.
8. Rolls Royce Phantom:
Tyson Fury has a brand new dark red and grey 2019 Rolls-Royce Phantom, worth a whopping ₦162 million.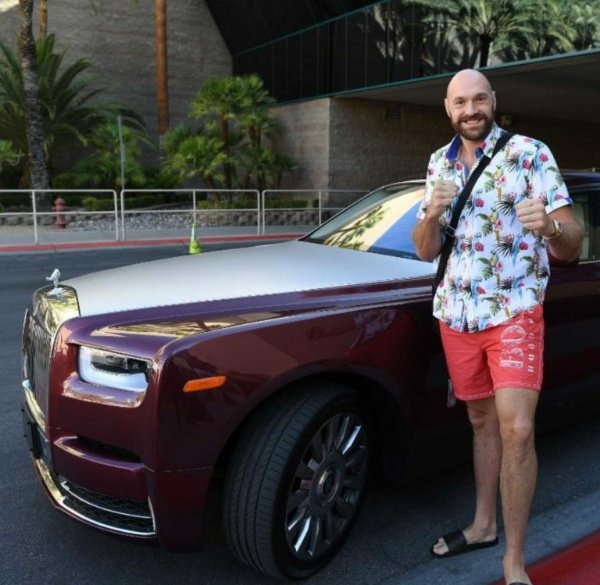 Don't forget to like, rate and share this post.