About 100 Buhari Campaign Buses Spotted In Lagos (See PHOTOS)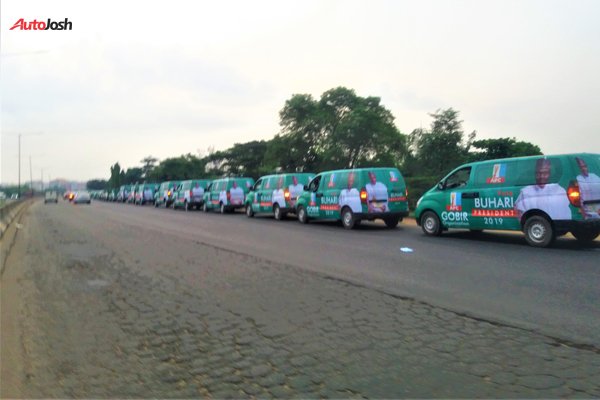 Undoubtedly, the political battle, in days leading to the 2019 general elections, is going to be ferociously contested.
The political players are currently leaving no stone unturned in order to secure victory at the polls.
They are all mobilizing the necessary arsenals to ensure their ultimate success in the political battle.
The incumbent President, President Mohammedu Buhari, his campaign team and ardent supporters are not left out of the campaign frenzy.
The President and his campaign team are determined that the status quo is maintained. To achieve this, they are preparing an elaborate campaign process  to ensure that.
For instance, very early this morning, a very lengthy convoy of 2009 Hyundai H1 were sighted on the Lagos end of the Lagos-Ibadan expressway.
These vehicles were all uniformly branded with the campaign messages to promote the re-election aspiration of President Buhari.
Indeed, the length of the convoy was sufficient to break some records. At a point, the convoy impeded the free flow of traffic along the Magodo-Berger axis.
No doubt, our politicians are not smiling.
A Tokunbo 2009 Hyundai H1 costs about N 7million. The cost of a Nigerian-used one averages about N2.5m to N 3m.