Toyota Nigeria Unveils The 8th Generation Of The All-New Toyota Camry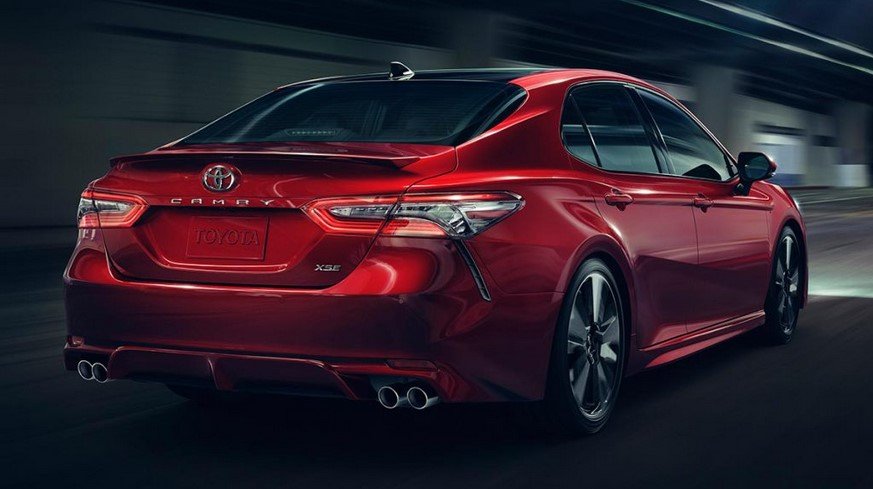 The leading Japanese automaker in Nigeria, Toyota Nigeria Limited, has unveiled the all-new Toyota Camry to journalists and dealers. This would be the 8th generation of the Toyota Camry.
The unveiling took place at the Toyota Nigeria Limited headquarter in Lagos.
The Managing Director of TNL, Mr. Kunle Ade-Ojo said the 8th Generation All New Camry has undergone a total transformation and transition, from a proven sedan to one that pushes the boundaries of technology.
The MD said;
"It is no exaggeration that the rich history of this model already imbues it with outstanding attributes peculiar only to all its siblings in our model line-up. From its upgraded, trendier exterior to its spacious interior design, the latest model of the Camry (being introduced in the Nigerian market) available in 2.5L and 3.5L engines will readily arouse in its lovers a driving pleasure unparalleled in its class. Indeed it is a remarkable package of safety, comfort and performance in equal proportion."
The all new Camry, according to a presentation by TNL's Marketing Manager, Mr. Bayo Olawoyin, has leading fuel economy and driving performance; high efficiency, high power next generation "Dynamic Force Engine", powerful acceleration and new direct shift 8AT contributing to low fuel consumption, sequential shifter that allows shift operation like in Manual Transmission, Improved noise reduction.
Engines
2.5L Engine
215/55R17 tire size, 6 Speed Automatic Transmission, 8 inches Display Audio, DVD, 6Speakers, dual auto AC, 1-12V console box, 2 USB at rear, Push Start, Cruise Control, Clearance/Back Sonar, Reverse Camera.
3.5L Engine
235/45R18 tire size, 8 Speed Automatic Transmission, 8 Inches Display Audio, DVD, 6 Speakers, 3-Zone Auto AC, 1-12V console box,2USB at rear, Push Start, Cruise Control, Clearance and Back Sonar, Reverse Camera, Rear seat control panel, reclinable rear seat.
New Direct Shift 8-Speed Electronically Controlled Automatic Transmission with Eco, Normal and Sport Modes
Camry's newly developed direct shift 8-Speed automatic transmission improves acceleration from a stop, provides a smooth ride even at high speeds and helps enhance fuel efficiency. The three distinct available drive modes give you even more control. Sport mode indulges your spirited side with a sharper acceleration feel, Eco mode adjusts throttle input to maximize your efficiency. Normal mode blends fuel economy with performance. Thanks to this choice of drive modes, a perfectly tailored drive arrives with the push of a button.
Engine Performance
Camry offers a compelling choice of petrol engines, the all-new 2.5LDynamic Force 4-cylinder and a new 3.5L V6, each delivering a sophisticated blend of performance and efficiency. Both engines utilize the D-4S direct-injection system, which selects the optimal injection method based on driving conditions to pack a powerful punch with enhanced fuel economy to boot. The new 2.5L engine has improved performance by approximately 6% over that of the outgone model.
Utility and Comfort
Rear seat can be reclined at the touch of a button, reduced gap between windshield and roof to reduce wind noise, a hood silencer to keep engine noise out of the cabin, rear control panel allows power seat, power sun shade and AC adjustment from the rear cabin of the vehicle.
High Quality Ride
Equipped with light weight high rigidity body and new suspension, new double wishbone rear suspension system, low centre of gravity resulting from overall height, floor height, lowered hood, high rigidity body with a 30% increased torsional rigidity, new four point engine mount to reduce engine vibration transmitted to the cabin, sound deadening and sound insulation material with increased areas and thickness.
World Top Class Safety Performance
Safety body with a leading global rating and advanced safety, high strength cabin and collision support body to effectively absorb and disperse shock, all speed dynamic radar cruise control.
Brake Hold
When the brake-hold switch is ON and the transmission is engaged other than Park or Reverse, the brake is automatically applied. In fact, the electronic parking brake will automatically engage after 3 minutes if the car has not moved.
Roominess
Vehicle interior has been redesigned to be more roomy especially for the rear occupants to enhance the luxury feel of the vehicle. The seats have also been redesigned to increase comfort for all occupants.
Advanced Airbag Standard
The All New Camry comes standard with an Advanced Airbag System with advanced dual-stage SRS driver and front passenger airbags, in addition to front and rear side curtain airbags. There are 9 airbags in all and all focuses on your safety.
Multi-Media Touch Screen
The All New Camry offers 8-inch Multi-Media touch screen and available 6 speakers, 800-Watt Entune 3.0 Premium Audio. You feel more at home with this type of audio system.
Added to the features of the all new Camry, we still have:
LED Headlamp with LED Daytime Running Lights (DRL)
More Efficient and Powerful available LED headlights naturally add a stylish touch.
Coloured Multi Information Display
What are you thoughts about this All-new Toyota Camry?