Bizarre Car Accident Scene In Front Of Airforce Base, Ikeja (Watch VIDEO)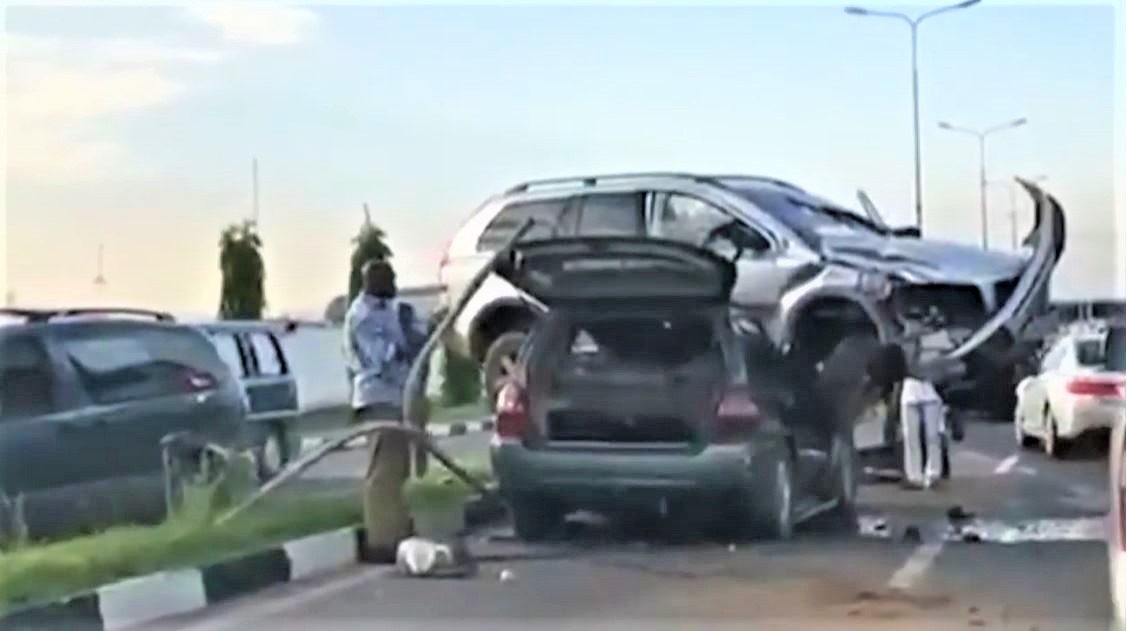 Checkout The Bizarre Car Accident Scene In Front Of Airforce Base, Ikeja
It was a bizarre accident scene directly in front of the Airforce Base entrance in Ikeja, Lagos.  The crash involved a Volvo XC90 and a Toyota Highlander.
The accident reportedly occurred on the first day of the easing of the lockdown in the nation's commercial capital. Ostensibly, one of the drivers of the two vehicles was in too much haste to attend to something that he had been deprived of during the period of the lockdown.
The unusual site had the Volvo XC90 directly on top of the Toyota Highlander.
From the video, it cannot be determined if the accident led to a fatality.
Watch the video below.
Average of 12 people died daily in 2019 road accidents across Nigeria – FRSC
In November 2019, the Federal Road Safety Corps (FRSC) revealed that it recorded 8,527 road traffic crashes (RTC) across the country from January till that time.
According to the FRSC, 4,163 people were killed in crashes during the period. This would give an average of about 12 people daily since the start of the year.
The road agency said that 59,724 people were involved in the road accident scenes in which 14,425 vehicles were involved. 4,163 people died, while 27,408 were injured in the accidents while 27,523 escaped without injuries.
It was also revealed that 621,776 offences were recorded during the period and 555,991 motorists were apprehended and penalised for various road traffic offences.
"A total of 108,759 apprehended offenders were cautioned and enlightened on basic safety tips and were allowed to go without any fine," noted the spokesperson of the FRSC.